Semiautomatic MDS
Automation with no major outlays
RDC-45 blister machine
Innovation and simplicity in MDS preparation
Tablets are manually added to the cells illuminated with LED technology, minimizing dosing errors and increasing efficiency.
Automatic batch and expiration date registration
RDC-45 blister machine
The medications are verified using the barcode scanner.
Fully customizable pouch design
All the information printed on the pouch is customizable and can be identified with the Data Matrix code to guarantee traceability.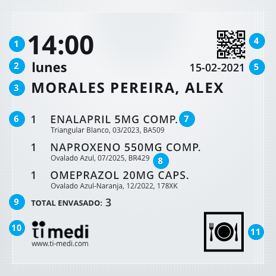 Dose time
Day of the week
Patient name
Unique identification code with full pouch information (blister ID, medication…)
Dose date
Quantity of tablets packaged
Name, dose, and type of tablet
Tablet details (shape, color, batch number, and expiration date)
Total quantity of tablets packaged
Logo and website of the pharmacy/nursing home
Dose time representation
Easy replacement of consumables
RDC-45 blister machine
The removable formats of the printing strip and consumables roll facilitate replacement, optimizing MDS preparation continuity.
Data sheets
Enter your email and we will send you the requested data sheets