Automatic MDS
MDS excellence
Which dispensing robot best fits your needs?
What difference is there between automatic MDS dispensing robots?
Larger size, enhanced efficiency
The main difference is the number of high-rotation medications that can be managed in the canisters. The larger the dispensing robot, the greater the number of canisters, meaning less handling and more efficiency.
A canister is a hopper calibrated to a specific medication by shape and size. It is identified by an RFID code the dispensing robot recognizes regardless of location.
How are low-rotation medications managed?
MDS dispensing robots enable the onboarding of autocanisters (universal hoppers) that make it possible to automatically add a specific or occasional medication according to your needs, even split dose tablets.
They also have a multi-patient STS tray system for manually adding low-rotation medication or medications not assigned to a canister.
Fully customizable pouch design
All the information printed on the pouch is customizable and can be identified with the Data Matrix code to guarantee traceability.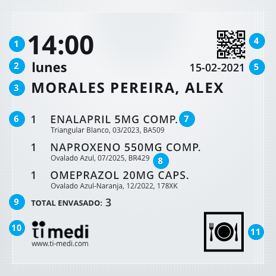 Dose time
Day of the week
Patient name
Unique identification code with full pouch information (blister ID, medication…)
Dose date
Quantity of tablets packaged
Name, dose, and type of tablet
Tablet details (shape, color, batch number, and expiration date)
Total quantity of tablets packaged
Logo and website of the pharmacy/nursing home
Dose time representation
Variable pouch size (optional)
The pouch size can be adjusted according to the number of tablets included in it, minimizing use of consumables.
Easy replacement of consumables
The removable consumable formats facilitate replacement, optimizing MDS preparation process continuity.
GMP-compliant
Fast and easy cleaning
Automatic blistering machines allows for hands-free medication liberation, preventing cross-contamination and facilitating cleaning.
Simple, safe, and efficient
Intuitive software under constant development
Ti-Dose pro is the foundation for MDS excellence
Integrated with pharmacy management programs
Patient and dose management
Pharmacy validation
Complete traceability
Report generation
Stock control
Data sheets
Enter your email and we will send you the requested data sheets